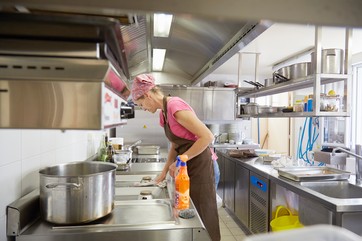 Are you a business owner who needs professional cleaning services which will give your business place that fresh and vibrant feel it once had? If you are looking service provider, make sure you fully understand the value of choosing the right company. Swinton Building Supplies have been providing similar services to numerous clients in Edmonton for over 28 years. For more information on our BUDGET FRIENDLY Cleaning Services.
The first thing you must understand as a business owner is, what is your need of a professional cleaning service company? and what impact and benefit will it have on your business?
The reasons are very clear, as a business owner know the importance of a "Good First Impression" on your potential customers, this can be from the moment they arrive in your parking area, and to the moment they enter into your lobby, no one wants to lose valuable custom due to dirty, messy, unhygienic and unappealing working environments. To avoid any such situations, Swinton Building Services have many skilled staff who have gained years of experience to ensure, this does not happen.
There are a few other things, one should keep in mind while considering professional cleaning services, these being:
Budget and Cost: Quality comes with a cost, but that doesn't mean it has to be expensive. Swinton Building Services can take out the guesswork for you. Our AFFORDABLE Cleaning Services can even highlight areas which require simple attention you may not have even considered.
Staff Background Checks: Any reputable cleaning company should be able to provide reliable, honest and trustworthy staff, and should be able to back this up with paperwork to prove it. You surely don't want unknown entities walking around your business unsupervised.
Proper Training: A reputable cleaning services company will invest in its staff, this they would do by the means of training,
Flexibility: A working schedule should be tailored round your operations, and not how it fits in with the cleaning contractor, there should be sufficient resources in place for them to meet your requirements.
Licensed and Insured: A good cleaning company should be fully licensed and insured, the last thing you want is a simple mistake only to find they are not insured to cover your losses.
For more information on Superior and Efficient AFFORDABLE Cleaning Services, or any other of our cleaning services which can benefit you in Edmonton, please visit our website swintonbuildingservices.com, or contact our professional cleaning services in Edmonton on 780 – 939 – 2799 and receive your free tailored quote which meets your requirements. We can be contacted 24/7, 365 days per year to accommodate any of your requirements. For more, click here for a special video offer.
Avail Your Free Quote Today