OFFICE CLEANING AND RETAIL CLEANING
The Most Common Business Mistake


(You're Probably Making It Now)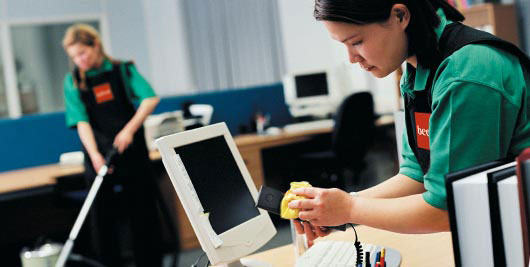 Many business owners make the mistake of letting their office or retail environment get a little (or a lot) dirty from time to time. Heavy rains storms, snow storms, wind and dust can really wreak havoc on even the most well run businesses. And it's not always easy to get it all cleaned up right away. So it may stay dirty for short while…laying the foundation for the perfect germ storm!

Here's what happens with a dirty office or retail environment that's not professionally cleaned:
Your average telephone contains 25,000 germs per square inch

Your elevator buttons, the first-floor button harbors the most bacteria and germs

Your water fountains harbor 2.7 million bacteria per square inch on the spigot

Your Keyboards hold more than 200 times as many bacteria as a toilet seat!

Your bathrooms are one of the grimiest places of all - with fecal toxins on nearly every surface!

How Much Are Sick Workers And Low Morale Costing Your Company?
Research has shown that the average worker loses 7 days per year because of sick days. Many of these sick days are easily preventable! These are $1,000s of dollars lost each and evey year for the average business owner. This is why we use our proven Swinton 'Office Cleaning 360' system. This system, that we've perfected for over 27 years, not only cleans your office or retail environment yet disinfects it as well!

We are expert at providing cleaning services for both office and retail environment as well as many other types of businesses that are operated from general office space. With the Swinton 'Office Cleaning 360' System, your business will not only look clean and smell clean - it will actually be a clean, healthy place to work.
Everywhere Business Owners Are Raving About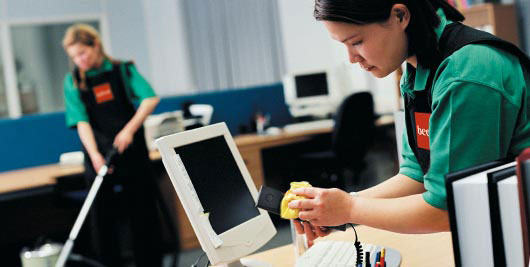 The Swinton 'Office Cleaning 360' System!
The Swinton 'Office Cleaning 360' System is effective, thorough, professional, and long lasting. Office environments require careful dusting and wiping, floor care, thorough restroom cleaning and trash removal. One-size-fits-all cleaning does not work for all businesses. Some offices have lobbies and conference rooms that are frequently used by customers and visitors; areas that are rarely used, such as unoccupied office space; call centers with hundreds of cubicles and phones; glass that needs to be cleaned monthly; or special equipment that needs care.
We customize a cleaning schedule based on your workspace, current business needs and budget. We get to know you and your business's needs to perfectly understand what is most important to you so that the cleaning consistently meets your expectations.

Our Swinton 'Office Cleaning 360' System:
Removes 99.97% of bacteria, allergens and dust from your environment

Prevents the spreading of viruses and bacteria throughout your work environment

Uses the most efficient and effective methods and techniques

Is 'green' and environmentally responsible

Is performed professionally and at a price that fits comfortably into your budget
----------------------------------------------------------
"I just wanted to thank you and your crew for the great job you did cleaning up after our remodel. I know you went out of your way to get the job done on time so we were ready to open for business on Monday!"
John Keller
Edmonton, Alberta
----------------------------------------------------------
Here's A Quick Way To Get Your Cleaning Done Right The First Time
With over 27 years experience and more than 1,000 happy clients, you can trust us to handle all of your office and retail cleaning needs. Solve your office and retail cleaning problems today with one simple call and experience the The Swinton 'Office Cleaning 360' System for yourself.
Want to know more about how we can help you with your cleaning needs? Call now for your FREE 'Office Clean 360' Quote – (780) 939-2799
COMPARE
OUR SERVICES
10% OFF
YOUR 1ST MONTH'S BILL
limited time offer!!!