COMMERCIAL CLEANING SERVICES AND JANITORIAL CLEANING SERVICES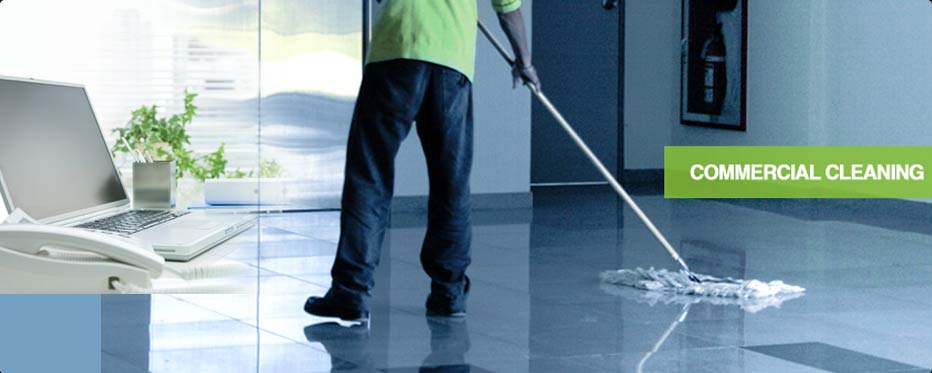 Looking For TOP Caliber Commercial Cleaning Services Yet Don't Know Where To Turn?
You've got enough to do running a successful business than worrying about taking care of your commercial cleaning (i.e. cleaning your office, vacuuming floors and rugs, cleaning bathrooms, washing windows and more). The last thing you need is another responsibility or hat to wear. Yet businesses get dirty all the time. Customers and employees walking around, spilling things, sneezing and coughing on various surfaces, tracking dirt and debris everywhere. It just never seems to end!
Did you know that having a properly cleaned business is important to running a successful company? Studies have shown that having a clean business and office increases productivity in both you and your employees. Your customers, tenants and employees deserve only the BEST environment when they visit your office. Amazingly, office desks contain more than 400 times the amount of germs as a bathroom toilet and germs contribute to workers taking an average of seven sick days per year. That number can be decreased by implementing a 'Clean Office Strategy'.

How To Do Your Office Cleaning In 30 Seconds
So many business owners think of hiring a professional commercial cleaning services company to solve the problem for them. Yet there a lot of companies offering commercial cleaning services for small business owners. With so many choices available to you, which one should you go with? How do you know if they'll do a good job? Will they be reliable? Are they expensive? Are you going to get locked into expensive contracts? These are common questions that many business owners consider.
Here at Swinton Building Services, we have built a solid reputation for providing TOP caliber, fast, professional commercial cleaning services for business owners. Unlike many cleaning companies that haven't been in business for very long, have little to no experience, or just are simply a franchise of some large, cold corporation, we've been in business for over 27 years and get to know each of our clients one-on-one. This is important so that we learn your unique needs and how to best serve you.

We service:
General office facilities, health care facilities, fitness centers and gyms, schools and daycare facilities, manufacturing, retail and restaurants, lawyers, accountants, consultants, real estate firms, engineering firms, support centers and many other types of businesses that are operated in commercial space. We provide specialized services in hard floor care (machine scrubbing, scrub and recoating, strip and refinishing) and carpet care (spot removal, hot water extraction and encapsulation cleaning). And unlike most traditional cleaning services that only clean for appearance, we reduce the spread of illness-causing germs in the places where your customers and employees work, learn and play.
--------------------------------------------------------------------------

"Swinton Building Services has provided janitorial services for us since we moved in to our building two years ago. They have proven to be very dependable and cost effective in providing services to us. They are also responsive to our calls and are always available when we have a request."
Joe Harter,
Edmonton, Alberta


---------------------------------------------------------------------------

No More Back-Breaking Chores For You
-- But Your Business Will Be The Show Place Of The Neighborhood
With over 27 years experience and more than 1,000 happy clients, you can trust us to handle all of your commerical cleaning needs. Solve your cleaning problems today with one simple call and experience the The Swinton Difference for yourself.
Want to know more about how we can help you with your cleaning needs? Call now for your FREE 'Clean Business' Quote – (780) 939-2799
COMPARE
OUR SERVICES
10% OFF
YOUR 1ST MONTH'S BILL
limited time offer!!!