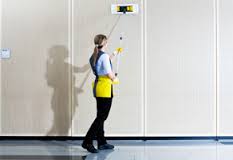 Both interior and exterior walls within your business can be an arduous task to keep clean, from rubbing chairs, to hand prints and splash marks inside, to the effects of passing traffic, changing weather conditions or kind deposits from birds and other wildlife on your exterior walls. These are not only time consuming, but can be difficult to clean successfully, especially if you are unsure how chemical react with the surface. For more Information on our Superior Wall Maintenance and Cleaning Services
Any business knows the cost of repainting and the amount of disruption to a working environment this causes, this is best avoided until absolutely necessary. Swinton Building Services have been providing Wall maintenance and cleaning services for nearly 3 decades and have been able to prolong the need for repainting for many satisfied customers.
Our highly skilled wall cleaning experts have techniques and access to the best Bio-Friendly chemicals that can restore your interior walls and help to remove any of the following where possible: pencil marks, permanent markers, Oils & Inkspots, dirt, smoke, and fingerprints etc.
For external walls, our skilled cleaning expert crews, have access to the most modern steam cleaning equipment and when coupled with our green cleaning solutions, is both tough on dirt but soft on the environment. And as with the interior wall cleaning service, can be adapted to both your working schedule and your budget.
For Extra information on our Superior Wall Maintenance and Cleaning Services or any other of our cleaning services which can benefit you, please visit our website swintonbuildingservices.com, or contact our professional cleaning service staff in Edmonton on 780 – 939 – 2799 and receive your free tailored quote which will meet all your requirements.
We can be contacted 24/7, 365 days per year to accommodate any of your requirements. For more, click here for a special video offer.
GET A FREE QUOTE