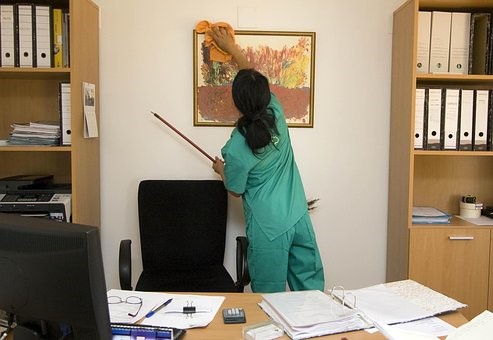 Every business owner knows, the presentation of your workplace is a direct reflection on the sort of company you are. It is more inviting to offer both customers and staff a clean and fresh environment. Buildings that have been cleaned by professional Edmonton janitor services are more likely to grab the attention of potential customers. Learn more about our best in class janitor services.
Swinton Building Services can offer this service, on whatever rotation your company demands, we are able to offer bi-weekly, daily or once weekly cleaning visits, and our highly-trained staff, not only use the best equipment available, they have their disposal, some of the Greenest and environmentally friendly chemicals available.
Our teams can offer, emptying trash, restroom sanitation, clearing stairwells and elevators and so much more. You company offices and work areas will be maintained to the highest standards possible and so leaving the very best impression, to anyone who should visit your workplace.
The professional janitor services offered by Swinton Building Services can leave you filled with confidence, you will be able to meet all of your building and office cleaning needs professionally, efficiently and above all affordable.
Swinton Building Services offers professional janitor services in Edmonton, to many satisfied clients, and has done over the past 28 years. We can be contacted 24 hours per day, 7 days a week and 365 days a year.
For more information on our full range of professional janitor services in Edmonton, you can visit our website swintonbuildingservices.com, or contact our professionals now on 780 – 939 – 2799 and receive a free quote. For more, click here for a special video offer.

GET A FREE QUOTE