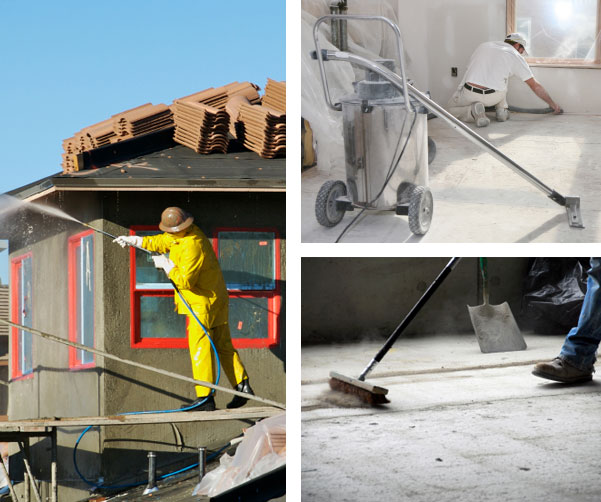 It may be the case you have had a major building re-modelling or internal demolition works being undertaken. You could also be a building contractor who wishes to outsource the cleaning aspects of this work. Swinton Building Services can be your go to cleaning contractor who can offer all construction cleaning and final detail cleaning for any project. Swinton Building Services has a highly skilled cleaning crew who can assist in all matters relating to your Construction Cleanup Services. Learn more about our Premium Construction Cleanup Services.
If you are rushing to meet a deadline for occupancy or project completion, Swinton Building Services can work with you to help you achieve this, from clearing of and dust, rubble, and broken materials, all the way to the final detail cleaning, our highly skilled staff can make use of the best cleaning and dust extraction equipment, and techniques to help you achieve your goals, no matter what your working schedules we can accommodate your every need.
Some of our post construction cleaning services include:
Cleaning after builders have finished construction
Final Detail Cleaning before occupancy
Post Refurbishment Cleaning and dust extraction
Specialist Construction Cleanup Services include:
Hard Floor and Natural Stone Maintenance, strip and coat
Ventilation Duct Cleaning
Material disposal
Brickwork cleaning
For more information on our Premium Construction Cleanup and Final Cleaning Services, or any other of our cleaning services which can maybe a benefit to you in Edmonton, please visit our website swintonbuildingservices.com, or contact our professional cleaning service staff in Edmonton on 780 – 939 – 2799 and receive your free tailored quote which will meet all your requirements.
We can be contacted 24/7, 365 days per year to accommodate any of your requirements. For more, click here for a special video offer.
Avail Your Free Quote Today
Avail Your Free Quote Today
Avail Your Free Quote Today