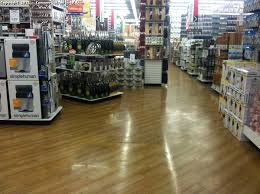 The cleanliness of a store is a reflection of the products it sells, no one wishes to purchases groceries or clothes from stores that appear to be dirty and dull. Swinton Building Services have been providing complete retail cleaning services in Edmonton for over 28 years. For more Information on our Affordable Retail Cleaning Services
The easiest way of attracting more satisfied customers is by maintaining high standards of cleanliness that they come to expect in a retail environment. Swinton Building Services employ cleaning crews who are experienced in cleaning the areas that many would not consider, dust, dirt and germs can gather on the floors, walls, windows, shelves and on or below cupboards and shelving etc. although your store may appear clean, there is always dirt and grime lurking ready to soil your goods.
Any spills on the floors can cause severe injury, if not cleaned properly, or the area could become damaged depending on the item spilled. These stains and marks only get worse if not treated properly. Skilled cleaning crews at Swinton Building Services can deep clean these areas, so there are no spots showing, this can uphold your appearance and maintain the floor covering for many more years.
Our staff have access to the best green chemicals which are non-harmful to foodstuffs or fabrics, so you are safe in the knowledge any items you sell of this nature, will not be spoiled by contamination.
For Extra information on our Efficient and Budget-Friendly, Edmonton Retail Cleaning Services, or any other of our cleaning services which can benefit you, please visit our website swintonbuildingservices.com, or contact our professional cleaning service staff in Edmonton on 780 – 939 – 2799 and receive your free tailored quote which will meet all your requirements.
We can be contacted 24/7, 365 days per year to accommodate any of your requirements. For more, click here for a special video offer.

GET YOUR FREE QUOTE TODAY