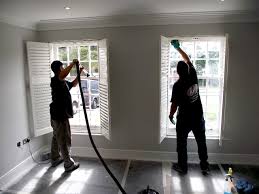 An efficient cleaning company should be able to work around your company schedule, no matter what working patterns you have, our staff are able to complete their tasks with the minimum of fuss and disruption.
Swinton Building Services prides themselves, on being a highly efficient cleaning company, and can offer any cleaning rotation you desire, be it once per week, bi-weekly or every day if so required. Learn More About an Efficient Cleaning Company.
An efficient cleaning company will not only clean, they will respect both a client's building and contents, and take every care to protect the environment in the process, Swinton Building Services make use of the mildest Green chemicals that can get the job done.
By the use of Green cleaning solutions, the areas to be internally cleaned can be done so without any lingering of petroleum based products.
Swinton Building Services has offered cleaning professionals in Edmonton for over 28 years to many establishments just like yours. We can be contacted 24 hours per day, 7 days a week and 365 days a year.
For more information on what our cleaning professionals in Edmonton can do for you, please visit our website swintonbuildingservices.com, or contact our professionals now on 780 – 939 – 2799 and receive a free quote. For more, click here for a special video offer.

GET A FREE QUOTE