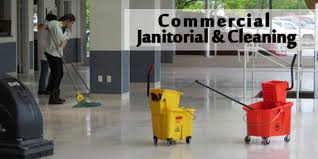 Running a successful business doesn't only needs well qualified employees and a perfect planning, but it also requires proper maintenance and cleanliness in the commercial site. If your workplace is not clean, then you may have to suffer from great loss. A dirty place will leave a bad impact on the mind of customers visiting your place. Mainly, these areas get dirty due to regular visits and stormy weather conditions. The dust gets deposited on the floors, walls, windows, tables, computer system, staircases etc. To clean a huge area on your own is a little bit difficult task. So, in order to get proper cleaning in your commercial site, you can hire professional cleaners. There are various janitorial companies all around who offer their services at affordable prices. They are expert in their work and follow latest methods. Using the latest equipment and other products they will provide you with the quality results. Learn more about our BEST VALUE janitorial cleaning services.
The experts will clean the sticky mud particles that are on the window glasses. They will also remove the greasy materials on the ventilators and make the air ventilation process run smoothly. The washrooms get contaminated due to the growth of germs and irregular cleaning. These harmful microbes and bacteria may cause several diseases. The janitorial cleaners use green cleaning agents to clean the toilets, urinals, areas under the seats etc and prevent the growth of germs.
SBS is a well reputed janitorial cleaning company in Edmonton. We have a team of skilled staff members who are qualified and experienced in providing the quality cleaning services. We offer our services at affordable prices all over Edmonton. Our experts are available at your service 24 hours a day and 7 days a week. You can hire us by calling at 780-939-2799. For more information, click here for a special video offer.