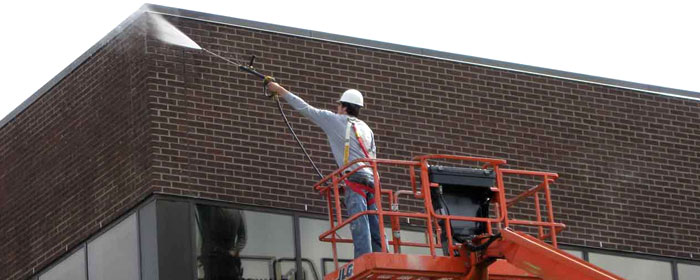 One cannot avoid the importance of cleanliness in the commercial area. From all the different parts of a building, walls also play an important role. These are the building blocks of any infrastructure that would enhance the appearance of any building. But due to regular visits, bad weather conditions and human activities these get dirty and dusty. The dust particles get stuck on the walls, which look bad. The stains, marks, spill, footprints etc look awful and may leave a bad impact on the mind of customers. The acid rain may deteriorate the quality of paint. If in case your building walls are of glass, then it becomes more important to clean them properly and on a regular basis, as the dust particles may blur the view and it may affect the reputation of your business. In order to get them cleaned properly, you can hire professional cleaners. Learn more about our BEST VALUE wall cleaning services.
The expert janitors are well aware about the latest techniques and equipment that would help them in completing their task easily and within a specified time period. They will work in a systematic manner. First of all, they will remove the dust particles from the walls using extendable poles. After that, they will remove the stains, marks, spill using effective disinfectants. They use green cleaning agents that do not cause any harm to human health and the environment.
SBS is a well known commercial cleaning company in Edmonton. At Swinton Building Services, we have trained and equipped team of members who will provide you with the quality wall cleaning services. We are the one among those who offer are well experienced and have a huge list of happy customers. For more, click here for a special video offer.