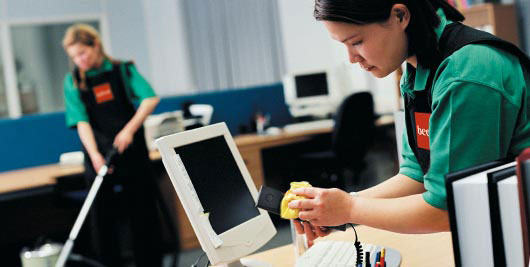 Are you responsible for the maintenance of your office premises? Are you not happy with the work of your present cleaning team? If yes, then it is perfect time to hire a professional cleaning service provider for your business complex or office. The expert janitorials use advanced cleaning methods to provide high quality services without causing any harm to human health and the environment. Learn more about our BEST VALUE office cleaning services.
Janitorial service for a large building complex is not limited to cleaning. In fact, they also provide sanitization and sterilization services in order to avoid the growth of germs, bacteria and microorganisms in the office areas. The janitors will examine your site first and then determine the areas that require general and deep cleaning. They will start with by general cleaning, which includes dusting, vacuuming, mopping and sweeping. After that they will follow deep cleaning procedures to clean the washrooms, conference rooms, work floors properly. There are various janitorial companies who offer their services at affordable prices, you just have to search the one that suits your needs.
SBS is an established and reliable Janitorial service company in Edmonton. We have 28 years of experience in providing office cleaning services. We have skilled staff members who are efficient enough in providing the quality services. We are available at your service 24 hours a day and 7 days a week. You can hire our services by calling at 780-939-2799. For more, click here for a special video offer.