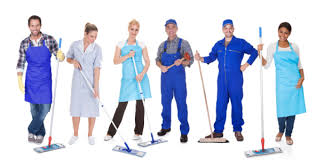 Cleanliness plays an important in expanding your business. If your workplace is dirty and dusty, then it would surely affect your business. The employees may get ill, which will further affect the productivity rate. The customer visit will also decrease which will result in less sales. If you are planning to clean your place own your own, then it is quite possible. But due to busy schedule you won't be able to clean your commercial site. You can hire janitorial cleaners to get your place cleaned properly. There are various companies who offer their services at affordable prices. Learn more about our BEST VALUE janitorial cleaning services.
The service providers will start their work in a systematic manner which involves general and deep cleaning. In the general cleaning process, they will remove the dust particles from the entire area. After that, the experts will follow the deep cleaning process to remove the stains, marks, spill from the floors, walls, windows, tables etc. They use Eco friendly products that are safe for both human health and the environment. The professionals will sanitize and sterilize the contaminated areas properly and prevent the growth of germs using effective disinfectants.
SBS is a famous janitorial cleaning company in Edmonton. We have around 28 years of experience and over 1000 happy clients. All our clients are well satisfied with our services. We use latest techniques using which we will complete the task within a given time span. You can hire us by calling at 780-939-2799 and can also get a free quote. For more details, click here for a special video offer.