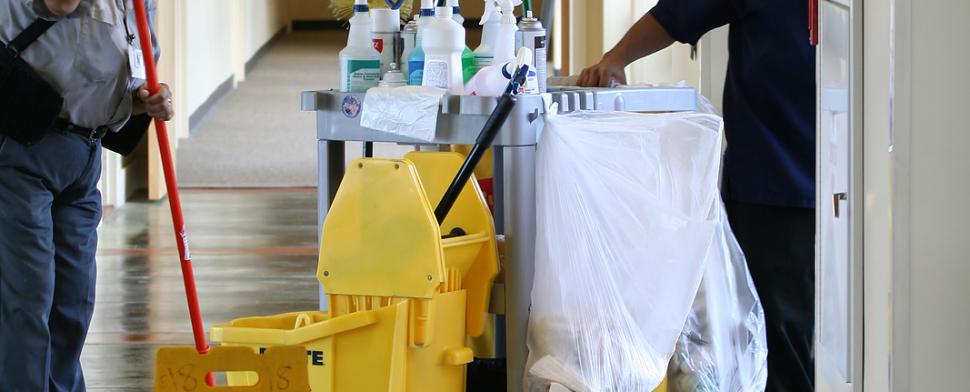 Institutes are the large areas with various sections and departments, which get dirty due to regular visits and bad weather conditions. The dust particles get deposited on the floors, desks, lecture stands, walls, windows etc and make the place look dirty. The regular usage of washrooms makes them stinky and contaminated which results in the breeding of microbes, bacteria and germs that may lead to several severe diseases. The stains, spots, marks on the walls and windows doesn't look nice and leaves a bad impression on the mind of customers. The chemical spill in the laboratories is very dangerous for human health, if not cleaned properly. To get them cleaned properly, you can hire professional cleaners. Learn more about our BEST VALUE institutional cleaning services.
The expert janitors will examine your site first and then determine the areas that require general and deep cleaning. They will start with by general cleaning, which includes dusting, vacuuming, mopping and sweeping. After that, they will follow deep cleaning in which they will remove the stains, spill, marks using effective disinfectants. The experts use green cleaning agents that are safe for both human health and the environment. There are various janitorial companies who offer their services at affordable prices, you just have to search the one that suits your needs.
SBS is one of the famous commercial cleaning company in Edmonton. We have around 28 years of experience and over 1000 happy clients. Our team of skilled staff members is efficient enough in providing the quality institutional cleaning services. We are available at your service 24 hours a day, 7 days a week and 365 days a year. You can contact us at 780-938-2799 to get a free quote. For more, click here for a special video offer.