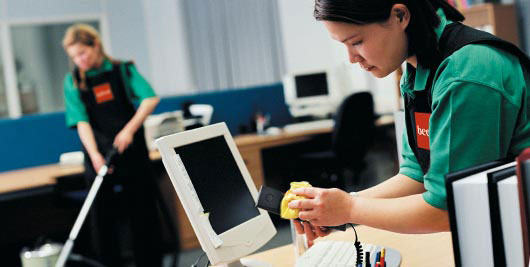 Every type of business requires proper cleanliness, if you want to promote your brand image. Because of daily visits and bad weather conditions, the commercial sites get dirty and dusty. The dust particles get deposited on the floors, walls, windows, tables, mirror etc and make the place look bad. The marks, spill, stains on different areas don't look nice and leaves a bad impact on the mind of customers. Due to irregular cleaning, the washrooms become the breeding homes of germs, pathogens, microbes and bacteria that may cause severe diseases. The smell from the overfilled bins doesn't allow the employees to concentrate on their work. Moreover, the rubbish scattered on the floors affects the reputation of your business. To get your commercial sites cleaned properly, you can hire professional cleaners. Learn more about our BEST VALUE commercial cleaning services.
There are various janitorial companies who offer their services at affordable prices. The expert janitors use green cleaning agents that do not cause any harm to human health and the environment. They will clean all the dust particles using high quality brooms. After that, they will remove the stains, marks, spill from the floors, walls, windows, tables etc using effective disinfectants.
SBS is a commercial cleaning company in Edmonton who have highly skilled staff members and around 28 years of experience in this field. Our experts are available at your service 24 hours a day and 7 days a week. You can hire our experts by calling at 780-939-2799 and can also get a free quote. For more, click here for a special video offer.