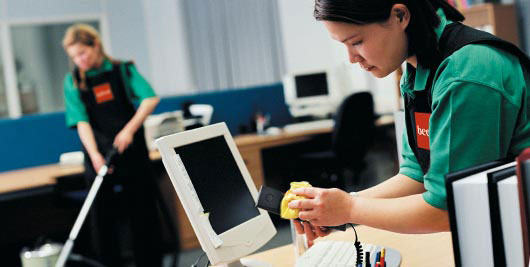 With great hustle and bustle of the city, the entire place gets dirty and dusty. There are various commercial sites like institutes, industries, business complex, offices, shopping malls, retail stores, restaurants etc where a large number of people visit everyday. Due to these regular visits, the areas get dirty and grubby. This dust deposition may cause harm to employees working in the area, customers visiting your place and also to the equipments present there. It is very necessary to get your commercial building cleaned properly. So, you can hire janitorial cleaners. Learn more about our BEST VALUE commercial cleaning services.
The janitorial cleaners will clean each and every corner of your place. They will start their work in a systematic manner. First of all, they will clean the dust particles using high quality brooms. After that, they will remove the stains, marks, spill from the floors, walls, windows, tables etc. They use green cleaning agents that do not cause any harm to human health and the environment to clean these spots from different areas. They will sanitize and sterilize the contaminated areas properly. There are various janitorial companies who offer their services at affordable prices.
SBS is one of the professional commercial site cleaning companies in Edmonton. We offer reliable services to all our clients. Our experts are available at your service 24 hours a day and 7 days a week. You can hire us by calling at 780-939-2799 and can also get a free quote. For more, click here for a special video offer.