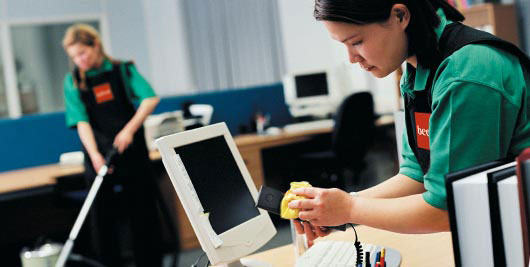 Regular cleaning and maintenance of any commercial site is very critical to live healthy and give 100% at work to enhance productivity. The various types of commercial sites like industries, institutes, restaurants, retail stores, shopping malls, business complexes, offices, hotels etc need properly cleaning on a regular basis. The kitchen and washrooms in these areas require proper sanitation to avoid the growth of bacteria and germs. All other areas along with these also require proper cleanup to avoid contamination and messy conditions. Moreover, the yellowish stains in the toilet bowls, urinals and areas under the seats make the place look outrageous. So, to get it cleaned properly, you can hire professional cleaners. Learn more about our BEST VALUE commercial site cleaning services.
Our professional janitorial staff members will first examine your place to determine the areas that need general and deep cleaning. After making a complete strategy according to client requirements and inspection report, they will start with dusting, vacuuming, mopping and sweeping in the areas. For high contaminated areas like washrooms, storage rooms etc they follow a deep cleaning process in which they use green products to remove all the dirt, grit, stains, permanent marks etc and also prevent the growth of germs in those areas. All these areas are require expert efforts for proper cleanup. So, it will be very beneficial for you to hire professionals for removing the dust and dirt.
SBS is one of the renowned janitorial companies in Edmonton. We have a team of skilled members who provide the best commercial site cleaning services at affordable prices. With the several years of experience in providing these services, we have around 1000 happy clients. You can hire us by calling at 780-939-2799. For more, click here for a special video offer.