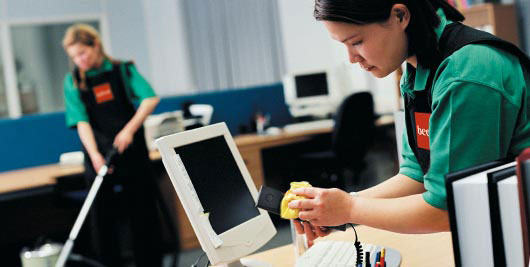 In order to ensure that your business run smoothly, you have to take care of several things from which cleanliness also plays a very important role. There are various types of commercial sites that get dirty due to regular visits and bad weather conditions. The dust particles get deposited on the walls, floors, windows, tables, chairs, staircases, computer system etc and make the place look bad. The stains, spots, marks on the walls, windows, mirror, wash basins, mirror, glass door etc doesn't look nice. The restrooms are the most contaminated areas in any commercial site, with lots of germs, bacteria, microbes and pathogens. The yellowish stains in the toilet bowls, urinals, flush rims and areas under the seats leave a bad impact on the mind of customers and hence affects the business reputation. The stench from the overfilled trash bins make the environment smelly. Likewise, there are several other reasons that make your commercial site messy and dusty and in order to clean them properly, you can hire professional cleaners. Learn more about our BEST VALUE commercial cleaning services.
The professional cleaners use green cleaning agents that do not cause any harm to human health and the environment. To clean the different types of commercial sites, the experts follow a step by step procedure. Firstly, they will remove the dust particles by dusting, vacuuming, mopping and sweeping. After that, the experts will remove the stains, spots, marks, spill from different areas like floors, walls, windows, toilets, urinals, areas under the seats etc. There are several janitorial companies who offer their services at affordable prices.
SBS is a well known commercial cleaning company in Edmonton. We have 28 years of experience and 1000 happy clients. Our experts are efficient enough in providing the quality services at various commercial sites. We offer our services on daily, weekly, biweekly and monthly basis. To hire us call at 780-939-2799. For more, click here for a special video offer.