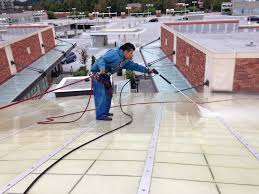 Pressure washers are one of the handiest tools a business owner can have access to. They can be used for everything from cleaning paths and pedestrian areas, cleaning brick walls and even steam cleaning any equipment or machinery that is covered in hard to remove oil and grime. For more information on our Pressure Washer cleaning services.
Another advantage of using a pressure washer when coupled with green cleaning chemicals is, the heat of the steam will actually sanitize whatever is cleaned by it. Swinton Building Services have highly skilled staff in using a pressure washer to the best effect, this they can also do to fit in with any working schedule you may have so as to eliminate too much disruption.
By using Swinton Building Services pressure washer cleaning services, you as a business owner do not have the worry of machinery cost, depreciation, and servicing, cleaning chemical purchase and storage and training of staff in the correct usage of the equipment. Once you have worked alongside Swinton Building Services to finalize what your budget will be, you will have access to one of the best cleaning machines available, and you will be safe in the knowledge, the operators are highly skilled in obtaining the best from this sort of equipment.
For more information on our pressure washer cleaning services or any other of our cleaning services which can benefit you in Edmonton, please visit our website swintonbuildingservices.com, or contact our professional cleaning service staff in Edmonton on 780 – 939 – 2799 and receive your free tailored quote which will meet all your requirements.
We can be contacted 24/7, 365 days per year to accommodate any of your requirements. For more, click here for a special video offer.

Avail Your Free Quote Today

Avail Your Free Quote Today

Avail Your Free Quote Today