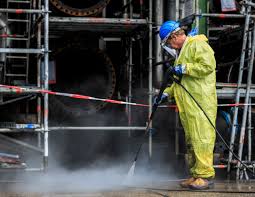 Professional cleaning companies are in business for two reasons, the quality of work and the speed in which they can get the job done properly. We have been honing these skills for over 28 years since we first started. One area that can require a speed solution is post construction cleaning. It always seems, however, quick a re-modeling job or renovation, it is too slow and a business needs to move back in straight away.
For detailed information on our Construction Cleaning in Edmonton click here.
To do both of this quickly and effectively requires a highly skilled workforce and the most current machinery that allows them to work at a speed which is effective and safe. Our certified and skilled workforce at SBS have conducted many post construction clean-up operations and have perfected their techniques to not only rid and area of dust, but to prevent this dust from spreading during cleaning, the whole area is confined and with the aid of dust prevention masks and large industrial vacuums, the dust is removed without entering back into the atmosphere or interfering with other parts of your building.
If this is satisfactory for most people, it is only the first stage for us, we then deep clean and remove any traces of dirt or grime that can be lurking in the hardest to reach places, if these are not cleaned, they can become breeding ground for germs and bacteria, this of which can easily spread and make your new space an unhealthy environment for employees and clients alike.
For a video example of how thorough Construction Cleaning happens, Click Here.
To find more about our Post Construction Cleaning, or any other restaurant and retail cleaning services you may find of a benefit in Edmonton AB, please contact our cleaning specialists NOW who can be contacted 24/7, and 365 days per year on 780 – 939 – 2799 in Edmonton and receive your FREE QUOTE.
For more detailed information on our complete range of specialist services, Please Visit Our Website

Fill Out The Form and get Your Free Quote Today