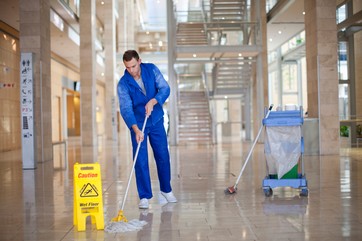 By having cleaning professionals to do the job, is just like have the best equipment, Swinton Building Services Edmonton can provide you with both. No matter how large or small your business, the teams of cleaning professionals we provide are experienced and fully trained in a range of many tasks, and every aspect of cleaning in, and around your building can be catered for.
From floor cleaning to driveway and wall cleaning, we can provide cleaning professionals who can make the best use of their equipment and a full range of green chemicals to complete their task. Learn more about our Cleaning Professionals.
A company with a clean appearance will be more inviting to visitors, and by using Swinton Building Services as your trusted cleaning professionals in Edmonton, you can focus on taking your company to the next level.
Swinton Building Services has offered cleaning professionals in Edmonton for over 28 years to many establishments just like yours. We can be contacted 24 hours per day, 7 days a week and 365 days a year.
For more information on what our cleaning professionals in Edmonton can do for you, please visit our website swintonbuildingservices.com, or contact our professionals now on 780 – 939 – 2799 and receive a free quote. For more, click here for a special video offer.
GET YOUR FREE QUOTE TODAY