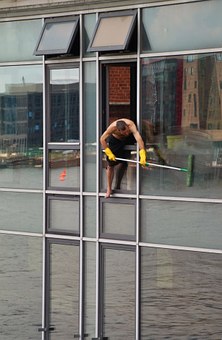 Windows may just serve the purpose for letting light into your workplace, but their impact on your business can be so much more, both from the outside and from the inside. They can set the whole tone of your workplace, and either appear clean and inviting, or look dirty an un cared for. With harsh weather conditions, it is vital your windows are kept in tip top condition all year round. For more on our BEST VALUE window cleaning services.
External Windows
Swinton Building Services knows windows, our experienced staff has been satisfying many customers with our Commercial Window Cleaning service for nearly 3 decades, any debris that may be stubborn to remove, they have learned many techniques and have access to the best eco-friendly cleaning chemicals that can remove traffic film, stickers or splashed mud. Not only can these chemicals leave your windows sparkling clean, they are soft enough on the environment and also on your window frames.
Internal Windows
There is nothing worse than staff sitting at a desk, and watching the world through windows that appear dull and are covered in dust or fingerprints, more so, what if a customer was looking at the same view? The window interior may take a little more care to clean than the exterior of a window, and our experienced staff is fully aware of this. By using similar green chemicals, they can clean window interiors so they once again become sparkling clean and leave a clean fresh scent, to freshen your workplace.
For our Commercial Window Cleaning Experience in Edmonton AB or any other cleaning service which you may require in Edmonton, please visit our website swintonbuildingservices.com, or contact our professional Commercial Window Cleaning specialists in Edmonton on 780 – 939 – 2799 and receive your free quote. We can be contacted 24/7, 365 days per year to accommodate your requirements. For more, click here for a special video offer.
Avail Your Free Quote Today