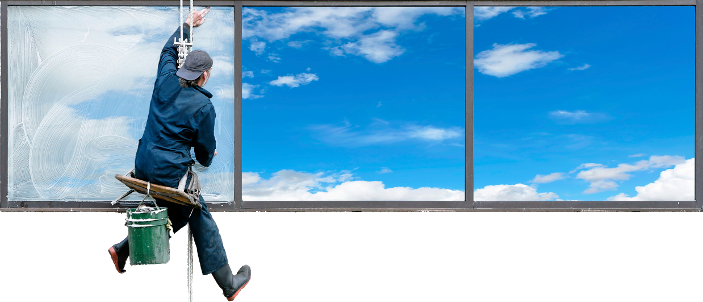 The window allows sunshine to pour in, one to look out at the world and at the same it serves as a decorative piece. So, keeping them crystal clear and clean is very essential. Over time, the dust and debris can become smudged after coming in contact with moisture content, and blur the view. This will not only block the light, but also affect the office's ambiance. Bottom line, no one wants dirty and smudged windows in the workplace. So, every business owner must get them cleaned properly from time to time. For this, they can hire an in-house team or contract with professional cleaners. A clean and clear glass window really leaves a good impression in the mind of onlookers. Learn more about our BEST VALUE window cleaning services in Edmonton, Ab.
The window cleaning requires climbing ladders and hanging on windows for many hours which is really very risky for any inexperienced. However, it is suggested to all that they should go with professional cleaners to get their work to be done properly without causing any damage to property and life. The expert will wash the dust, stains and remove stickers from the glasses completely. As they are proficient enough in their work and no one have to bother about any consequences to take place.
The professionals at Swinton Building Services provide the best window cleaning aids in Edmonton. We will clean both outside and inside of up to two storey building. Moreover, outside frame will be washed more frequently as compared to inside. We are available at your service 24/7, you can hire us by calling at 780-939-2799 and can also get a free quote. For more, click here for a special video offer.