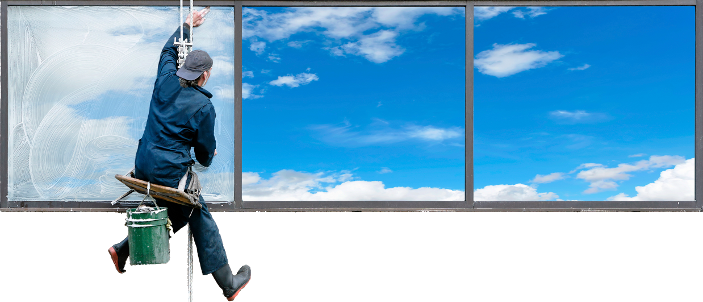 Installing different types of windows in the commercial sites is very common. You might have stylish or simple windows in your building which needs proper maintenance and cleaning as these get dirty due to regular visits and bad weather conditions. The dust and sticky mud particles get stuck on the window glass which doesn't look nice and blurs the view. The cobwebs and greasy materials at the corners need to be cleaned properly, as it will leave a bad impression on the mind of customers. The raindrops get mixed with dust particles deposited on the exterior side of the windows; makes them look awful. To get them cleaned properly, you can hire professional cleaners. Learn more about our BEST VALUE window cleaning services.
The expert janitors use modern tools and techniques that would make their task easy and enable them to complete it within a given time span. They will work systematically in a series of steps in which first of all, they will clean the dust particles and cobwebs using brooms and by doing dusting, vacuuming, mopping and sweeping. After this, the experts will remove the stains, marks, spill using effective disinfectants. They use green cleaning agents that do not cause any harm to human health and the environment.
SBS is a famous janitorial company in Edmonton. We have skilled staff members who are efficient in providing the quality window cleaning services. Our services are available 24 hours a day and 7 days a week. You can hire us by calling at 780-939-2799 and can also get a free quote. For more, click here for a special video offer.