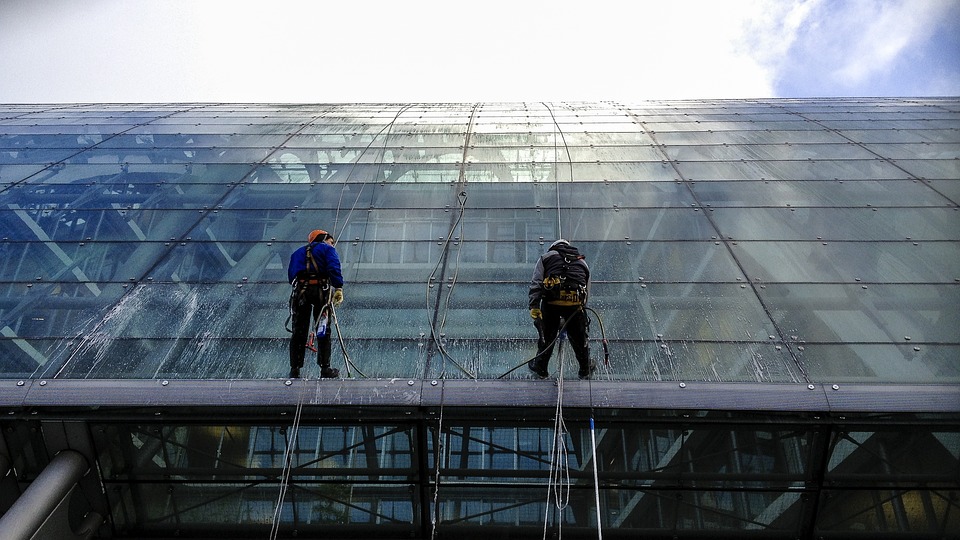 Windows can have a major impact on the appearance of your workplace, both insides and out, this can change depending on the different times of the year. In the winter, they are bombarded from the elements and can attract a lot of dirt that makes them look grubby when they have dried.
Fore detailed information on our Window Cleaning. Click Here
In the summertime, both inside and outside of your windows attract a lot of dust, this fine layer takes the sparkle off your windows and needs you to have window cleaning to make them again look their best.
Our window cleaning professionals have perfected their techniques, and with the best tools and green cleaning chemicals, they can provide some of the best window cleaning you will have experienced.
Free Demonstration of Window Cleaning, Click Here.
Your windows can actually become covered in fingerprints, no much more so than internal windows, glass, and mirrors, Swinton Building Services can offer affordable window cleaning which can incorporate all of these surfaces and will not affect your overall budget.
To combat your dust issues on your windows now the summer of 2017 is nearly upon us, a quick call to Swinton Building Services is all it needs to have your property looking sparkling clean and at a very affordable rate. Not only will our window cleaning improve your property curb appeal, it will lift the morale of your employees and look good and set a lasting impression with your customers.
For further information on our specialist cleaning services including Office Cleaning, Retail Cleaning, Commercial Cleaning, Restaurant Cleaning, Industrial Cleaning, Green Cleaning, Construction Cleaning, Carpet Cleaning, Carpet Care, Floor Care and Window Cleaning Services in Edmonton AB.
Please contact our cleaning services experts in Edmonton on 780 – 939 – 2799 who can be contacted 24 hours per day and 365 days per year
Or to view full information on our Janitorial Services, PLEASE VISIT OUR WEBSITE

Fill Out The Form and get Your Free Quote Today