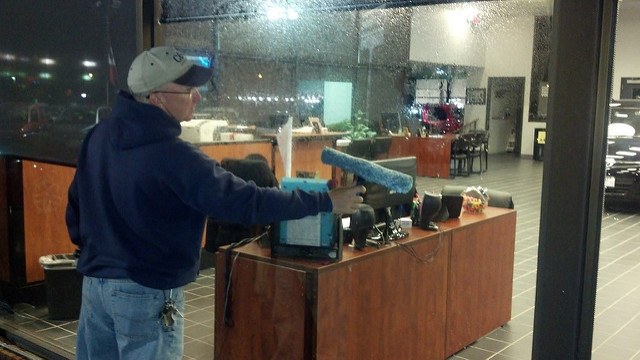 Our wide range of specialist cleaning goes far beyond just window cleaning services and includes:
Commercial Office Cleaning services
Specialized floor cleaning services – all types
Pest Control & Handyman services – upon request
Commercial Carpet Cleaning services– as standard
Solar panel Cleaning services
Commercial Restaurant cleaning services
Gleaming windows make all the difference with the outlook of your building. To achieve the ultimate Swinton Building Services provides window cleaning services which will clean any dull pane of glass into something that doesn't just look fresh and clean, it will be 100% smudge free
We also do our part and have a great consideration for the Edmonton River and how to do our part to make sure the chemicals we use do not harm and affect the environment. Our staff know how to use and fully dispose of chemicals correctly and safely
All of our window cleaning service teams have been thoroughly vetted and had secure background checks made to make sure they are fully reliable. The last thing we would want was for any of our staff to be unreliable and to put the reputable name of our business at risk. It is the duty of Swinton Building Services to makes it our primary focus to listen to our thousands of customers to understand the needs and expectations of their buildings. We also make sure all of our cleaning rotas are governed by your schedule rather than us saying when we are available.
Window Cleaning Services demonstration video
Janitorial Cleaning Services, Restaurant Cleaning Services, Carpet Cleaning Services, Carpet Cleaning Services, Window Cleaning Services, Wall Washing Cleaning Services, Skylight Cleaning Services, Company Sign Cleaning Services
Please contact our cleaning services experts in Edmonton on 780 – 939 – 2799 who can be contacted 24 hours per day and 365 days per year
Or to view full information on our window cleaning services, PLEASE VISIT OUR WEBSITE

Fill Out The Form and get Your Free Quote Today